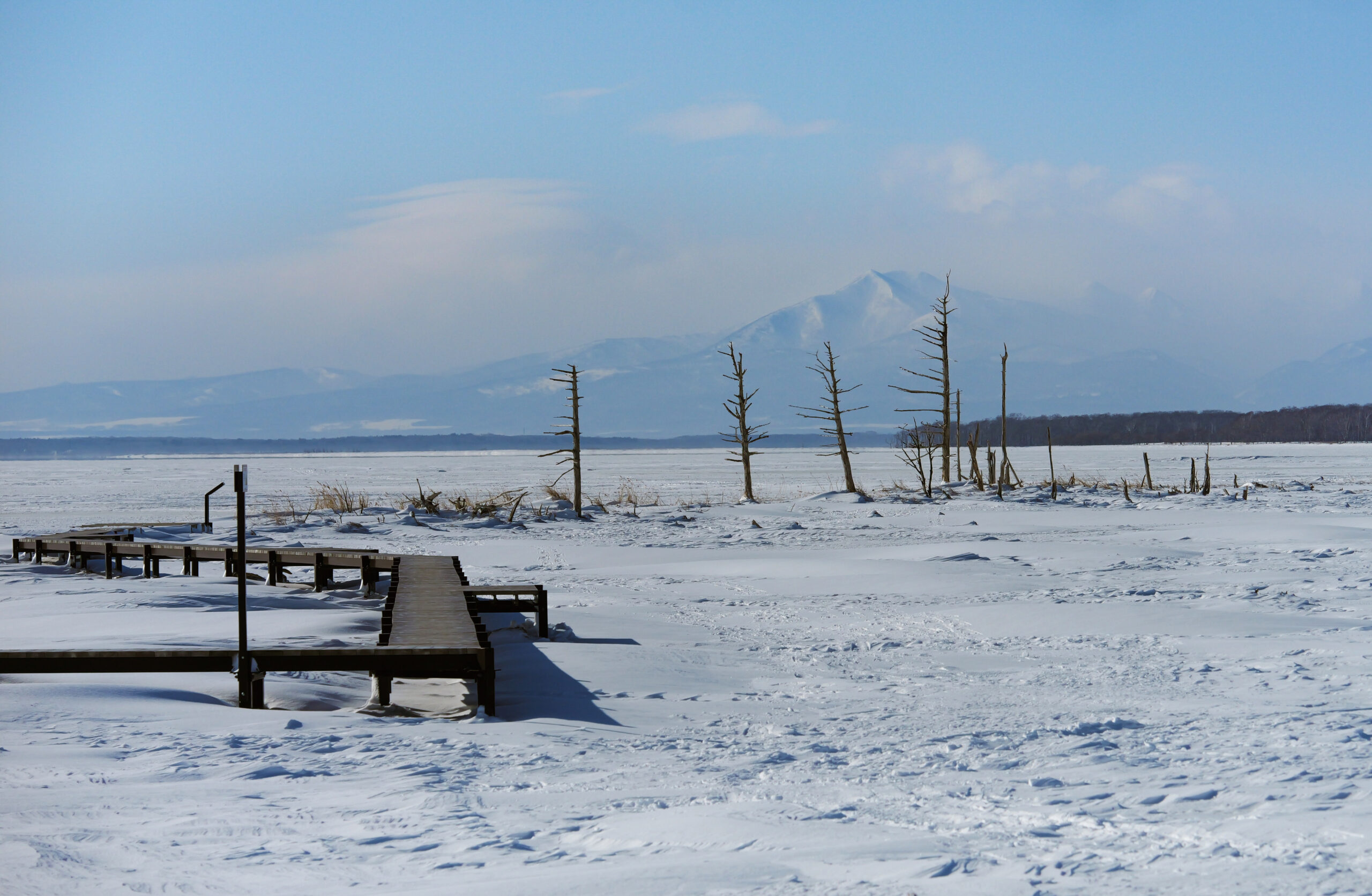 Ice Horizon Snowshoe
by Dylan Robinson
In winter, Notsuke Peninsula— Japan's largest sandpit at 26 kilometers in length—turns into what would seem like an endless piece of ice. The Ice Horizon Snowshoe experience offers a unique and exhilarating winter adventure for outdoor enthusiasts in this unique frozen landscape.
Notsuke Peninsula is a remote and beautiful location, known for its rugged terrain, stunning views, and abundant wildlife. The Ice Horizon Snowshoe tour takes visitors on a guided hike through the snow-covered landscape, using specialized snowshoes that allow for easy navigation on the soft, powdery snow.
The tour begins at the Notsuke Peninsula Nature Centre, where participants receive an introduction to the equipment and safety procedures. As the group sets out, they will be walking on the thick, frozen waters of Notsuke Bay, surrounded by a pristine winter wonderland and breathtaking views of the Sea of Okhotsk. An experienced guide leads the tour for approximately two hours and will provide insight into the natural features of the peninsula and the wildlife that inhabit the area.
One of the highlights of the tour is the chance to see the "Ice Horizon," a natural phenomenon unique to the area where the sea and sky appear to merge into one. This natural spectacle is caused by the sea ice reflecting the colors of the sunrise or sunset, creating an unforgettable sight.
Along the way, visitors may also encounter wildlife such as deer, foxes, and various species of birds. The guide will point out tracks and other signs of animal activity, providing a deeper understanding of the ecosystem and its inhabitants.
The Ice Horizon Snowshoe tour is suitable for all ages and fitness levels with expert guides leading the way, making it a great activity for families or groups of friends. The tour is offered from January to March, when the snow is at its deepest and the Ice Horizon is most visible.
For those who love vast open spaces and a sense of perspective, the snowshoe tour is the perfect activity while visiting Hokkaido in winter.