WILDLIFE DYNAMISM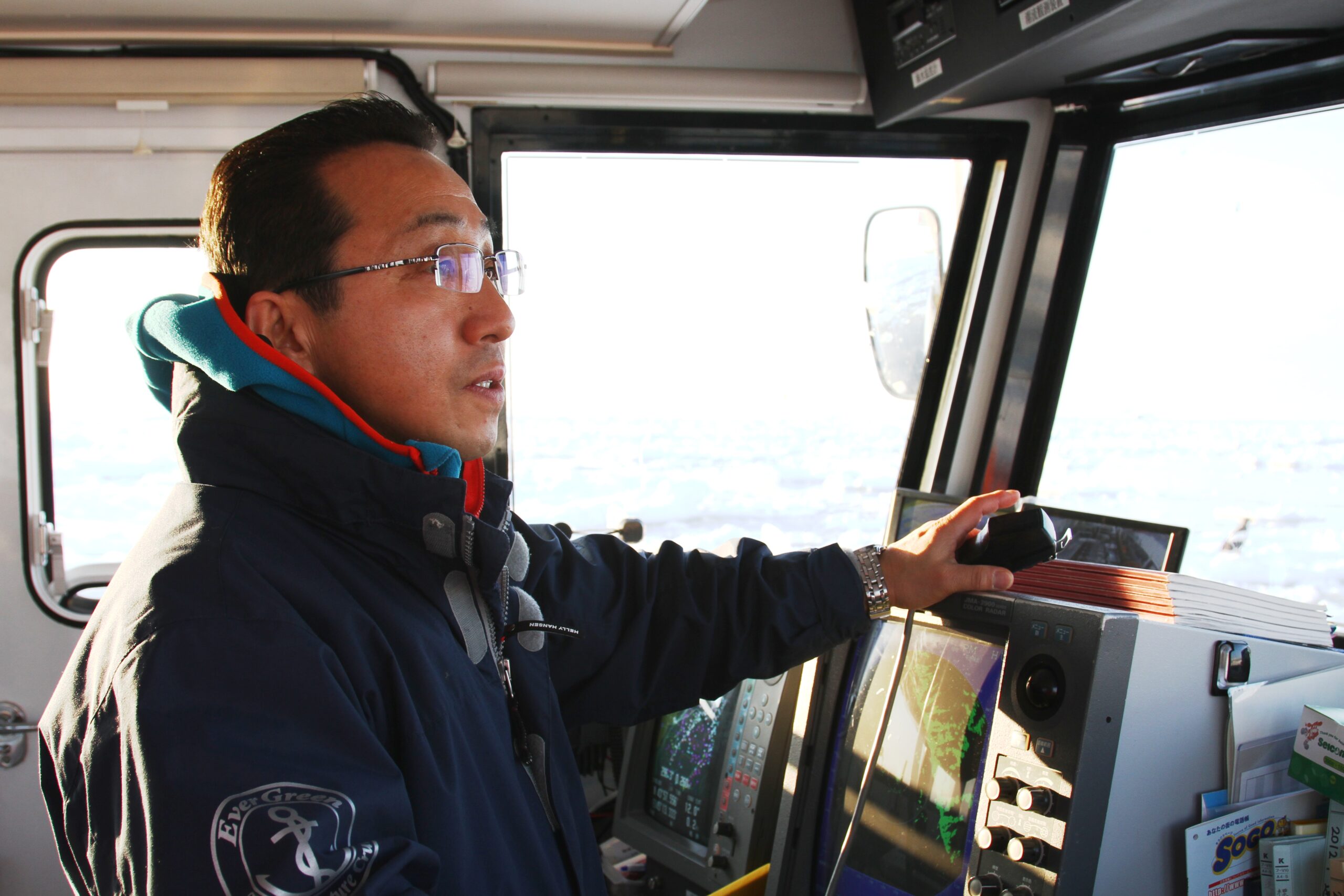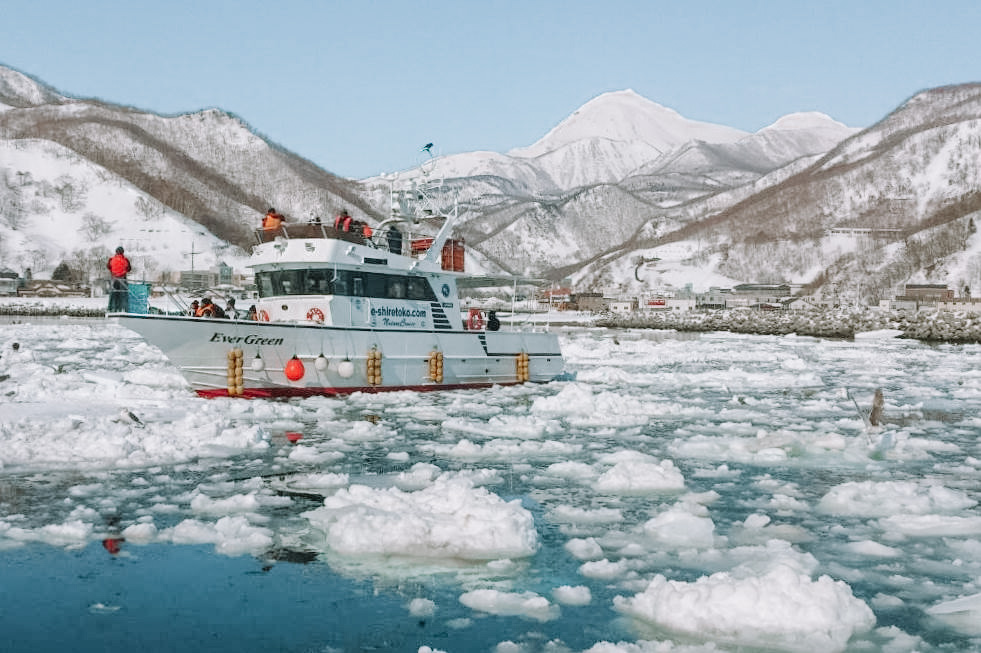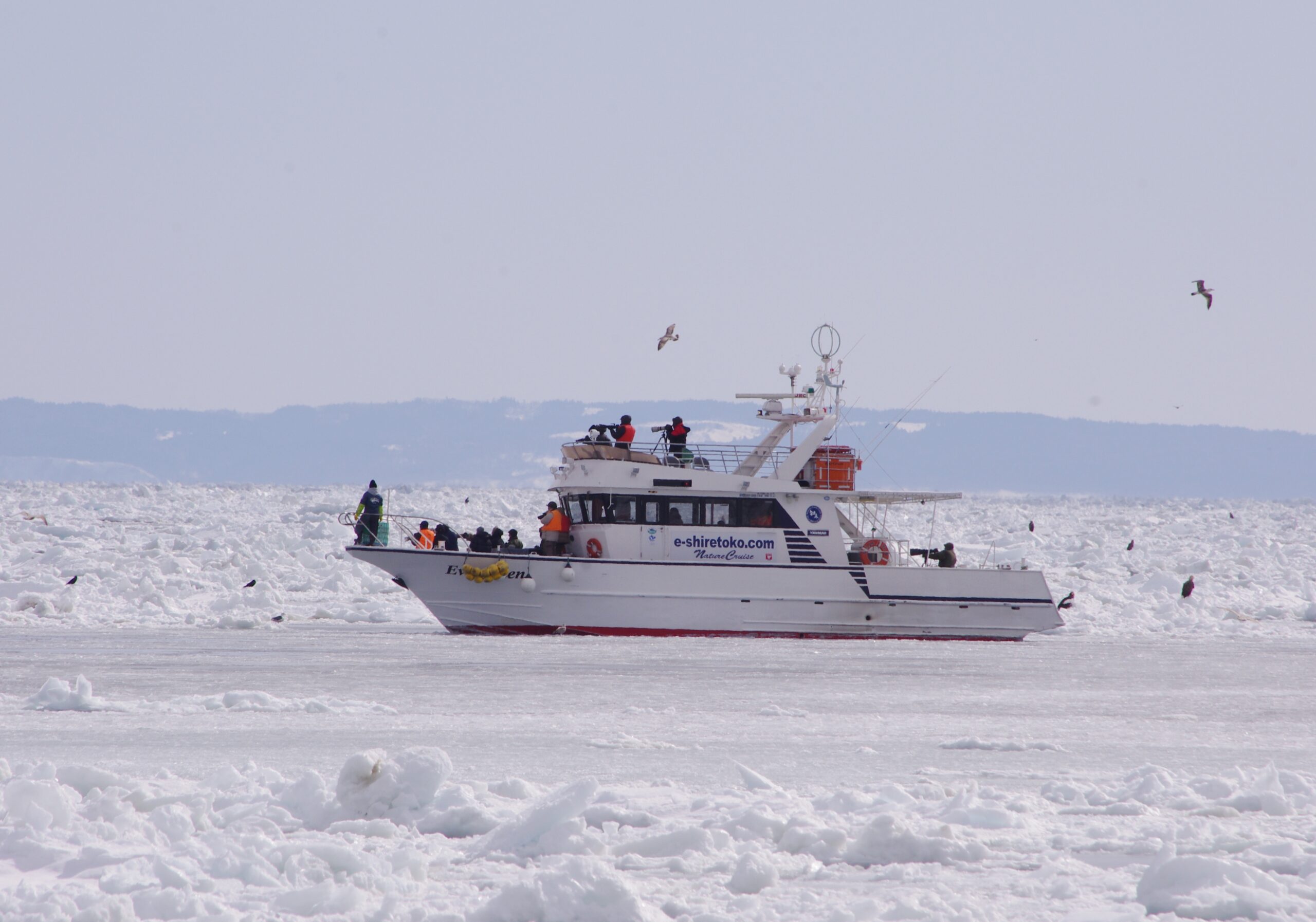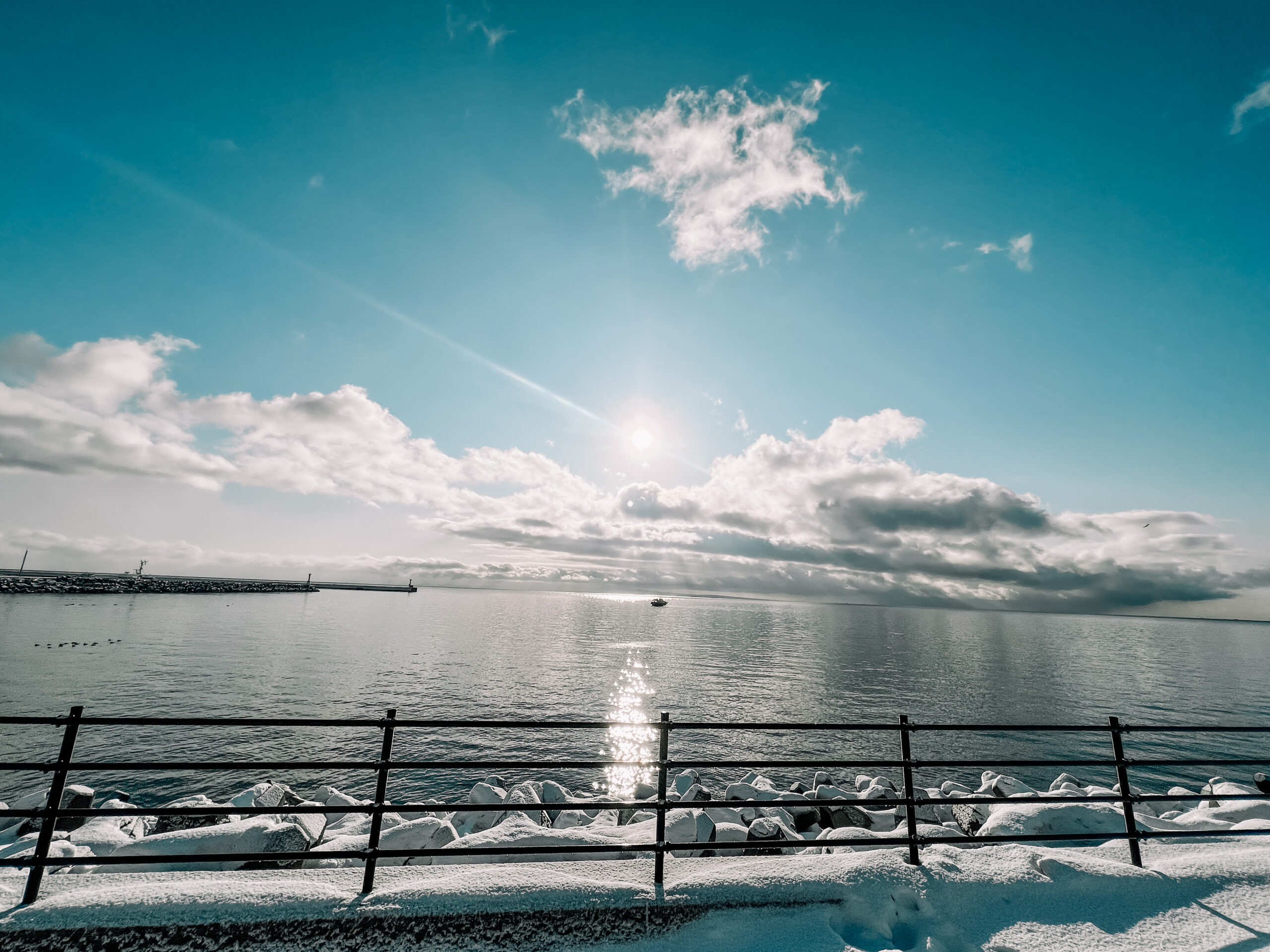 Discovering "Wildlife Dynamism"
Shiretoko Nature Cruise - Masato Hasegawa Interview

I pull my car in front of Rausu Port, throw open the door to snow flutters and freezing temperatures, and just breathe. The first time I ever visited Rausu was in the middle of winter, and it impacted me in such a profound way that I've been back every year since - but this is the first time I've taken the drive by myself. A seven hour journey on the winter roads from my home in Sapporo that reminded me again just how vast Hokkaido prefecture really is.
Rausu, a fishing town of just over 5000 people located in the Southern part of Shiretoko Peninsula, is definitely on the edge of this vastness. Between late November and April each year the Shiretoko Pass is blocked by snow, effectively isolating the town from the Northern part of the peninsula, with only one remaining road in and out via Shibetsu to the south.
Yet within this relative isolation, there's something almost indescribable about the sheer beauty of Rausu. The wide, golden skies of sunrise and sunset, the rugged drift ice kissing the shoreline and the majestic birds of prey soaring overhead, their calls resounding over the harbour. So as I stand beside my car and just breathe it in, I can't help but feel the excitement of being here once again.
The following day, after exploring Seseki Falls, meeting some dedicated wildlife photographers, and taking a bird watching cruise on the Evergreen 38, I sit in the small but immaculately presented offices of Shiretoko Nature Cruise and wait to meet Masato Hasegawa, the founder and captain. I've actually taken his cruises a few times over the years, so I know he is a charismatic and knowledgeable guide. He expertly captains the boat and yet manages, at the same time, to share detailed information and interesting stories about the local wildlife. But this is the first time I've ever had the chance to sit down with him face-to-face and hear more about his team and his story.
I quickly discover that he is one of the most energetic and enthusiastic people I have ever had the pleasure of meeting. The conversation flows quickly between a range of topics, but whether he is introducing his family, his boats, the town of Rausu or his love of strong black coffee - what comes through above all is his absolute dedication to this community and contributing back to the local area. He believes, without a doubt, that if the tourism industry flourishes, it will also have a positive impact on the local region - creating more vibrancy and unlocking more of the potential of the small fishing town.
Masato Hasegawa was born and raised in Rausu, the son to three generations of fishermen. After his graduation he went into the family profession, later beginning his own fishing business when he was 24 years old. But after falling in love with the rich nature of his hometown, in 2006, he founded Shiretoko Nature Cruise and began to build his reputation in the sightseeing boat industry. The company began with one boat, The Evergreen, but in 2020, The Evergreen 38 was added in order to meet high demand. Hasegawa-san explains how Rausu has become more and more well known for its unique nature and wildlife sightings, and so the number of guests has gradually continued to increase year by year. Whereas the original Evergreen has space for up to 50 passengers, a total of 80 guests can board The Evergreen 38 at one time. The interiors of these boats are designed with a more open layout between the captain, staff and passengers, and the wide decks are popular with photographers who wish to be able to move around freely. Fitted with the highest quality devices for safety and new electronically controlled engines, both The Evergreen and The Evergreen 38 have less noise and vibration than you expect from a small sightseeing boat - and less black-smoke emissions in comparison to boats with older engines. Speaking simply from personal experience, you feel safe on these sightseeing cruises. The experience of the team comes through in their guiding commentary, but also in how they handle the ship, navigate changing weather conditions, and the excellent maintenance of the boats themselves. Having a captain with an extensive background in the local fishing industry has an incredible impact, because who can better navigate the ocean around Rausu than someone that has been raised there.
As we drink some of his strong black coffee, Hasegawa-san pulls out a wildlife chart to explain the sheer spectrum of animals that you can see from a Shiretoko Nature Cruise in each season. He begins with the winter, as we're in the midst of it - where the drift ice comes and carries plankton and pollock and other species gather in search of it. Of course, the Steller's sea eagles and White-tailed eagles that I'd just seen from the boat myself. But he also points out the smaller black and white Brunnich's Guillemot - of which there are many sightings at the moment - and the Steller sea lions - who tend to only be visible between November and January. Moving through the year, whales and dolphins come to the area following the fish. As he points to animal after animal, it's overwhelming to imagine that such a wide variety of wildlife gather in and around this small slice of ocean. He keeps pointing to the chart - Sperm whales, Minke whales, Dall's porpoises, and White-sided dolphins. It is not uncommon to see Killer whales. Short-tailed shearwater and Fur seals - I knew some of these, but I am awed by just how long the list continues for. I can now better understand the dedication that I had previously seen in my photography loving comrades.
In order to give guests the best chances to see as much of the local wildlife as possible, there are a variety of cruise options throughout the year. In winter, between late January and early March, Shiretoko Nature Cruise runs three boat trips a day - a sunrise cruise at 5:30, and then an 8:30 and 13:00 option. Between spring and autumn, from late April until mid October, they run two boat trips a day - departing at 9:00 and 13:00.
Our conversation continues, and Hasegawa-san flows from Rausu's wildlife to his wider vision for facilities within the town. He points out the bright pink take-out coffee stand that they open at the back of their office in the summer months. The menu looks so good that this alone gives me a reason to come for a return visit on my next trip to the peninsula. Shiretoko Nature Cruise is focused on excellence in their sightseeing boat tours, but they have a wider heart that aims to welcome visitors into their community and create space for them. They are striving to innovate within Rausu town and have so many ideas for ways to do this. Hasegawa-san next takes us to the building opposite their offices, named 'Cho-e-maru' after his father's fishing boat. We see merchandise that has been designed and created by his daughter, and glass items that have been beautifully crafted by his wife. He shares his hopes to turn this space into a free seating area that tourists can use to relax before and after their time on the ocean. Hearing his stories, and seeing the way that every member of his family is involved, makes me excited to come back to Rausu in the coming months and years. I can imagine myself taking a summer nature cruise, sitting outside their pink coffee shop with an iced latte, and soaking in the atmosphere of the warmer months. Hasegawa-san's passion is so infectious that I too can literally see the potential and it makes me want to be a part of it.
Shiretoko Nature Cruise is still growing and now has a small but efficient team made up of several local guides - and includes Hasegawa-san's wife, Kanae, as company director and their adult children, Yuuki, Kiyuu, and Yoshika - who work alongside them in the office and on the boats. All of their team members have a deep knowledge and respect for the ocean and the wildlife of the area, and what really impressed me is that they make every effort to run their tours harmoniously with both the local nature and the local community. This isn't something pushed on top of the town, but these tours have very much been grown from the grassroots up, by a family that know and love Rausu and want to share the beauty of the place with travelers from all over the world.
We return to the small meeting area in the front of the Shiretoko Nature Cruise offices. The bustling reception is warm and welcoming and the staff are happy to answer questions and advise on the best boating options for guests. While I am there finishing my drink and our conversation, I meet a lovely couple from Australia who are taking numerous cruises throughout their five-day stay in Rausu. They want to ask for advice about when to take their final boat trip, and the team is happy to give them a number of flexible options. But with the confidence of only someone who has run these cruises for almost 20 years, Hasegawa-san boldly promises them the exact time, to the hour, that the winds and currents will bring the drift ice back to the shoreline. We all take him at his word, but as I leave another meeting later in the day, I can't help but check my watch and look out to the ocean. I see the drift ice moving in from the horizon and notice that of course - his prediction had been completely right.
If you want to take a sightseeing boat tour with Shiretoko Nature Cruise, you can check out their website at https://www.e-shiretoko.com